Oyonale - 3D art and graphic experiments
The cubicle workers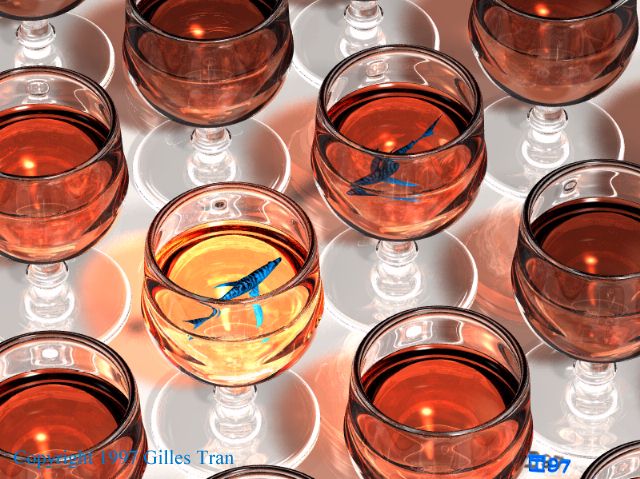 Artwork created in 1997
Renderer: POV-Ray
I do not endorse at all the character's somewhat grim point of view about office life in the story. It sounds like a Dilbert parody. I have great office co-workers who are also friends, but I've been told this is not the case everywhere.
The glass model is a lathe object (source here).
Because of the soft shadows, multiple reflections and refractions, this picture took forever to render : 6 months at 800 x 600 pixels on a Pentium 200 Pro running Windows NT. In the last weeks, I had to borrow an array of 4 Pentium 200 (to my said colleagues) so that it could be finished before the end of 1997. I had cranked up the max_trace_level at 20. I tried to decrease it to 10 : it reduced drastically the rendering time but left the image much darker, so that I left it at 20. I was told later, to my retrospective dismay, that reducing the adc_bailout value could have helped a lot. Always read the fine manual...
The image was re-rendered in 2002 at poster size by the fine folks at Mandrake France using a Linux cluster. Thanks a lot!